Crisp Spicy Aloo Tikki Recipe in Street Style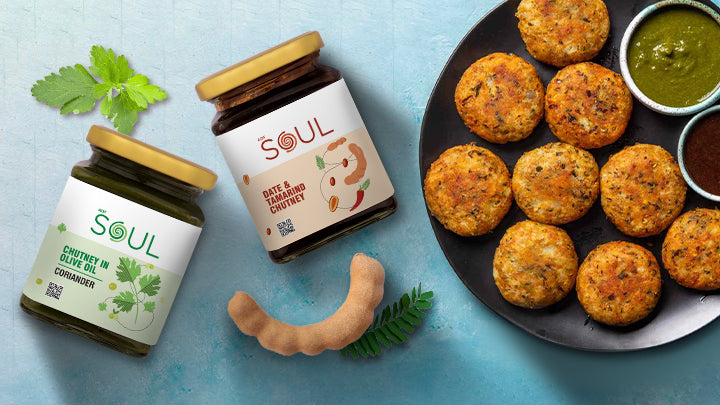 About Stuffed Aloo Tikki Patties
As we know, stuffed aloo tikki, also known as aloo cutlets or patties, are a popular Indian snack that people of all ages love. Aloo tikki, or potato patties, are a delicious combination of mashed potatoes and spices, shaped into round discs and shallow fried until crispy on the outside. The stuffed aloo tikki can be experimented with various fillings, adding a burst of flavour to the already mouthwatering dish. The stuffed aloo tikki can be experimented with various fillings. Not only that, but it is perfectly paired with a wide range of SOUL chutneys and dips like Schezwan, Mint, or a fiery Sriracha dip. It simply adds a burst of flavor to an already mouthwatering dish.
Stuffed aloo tikki patties are not only a popular recipe but also a great appetizer for parties or gatherings. They are loved by vegetarians and non-vegetarians alike, making them a versatile and crowd-pleasing option. Whether you enjoy them on their own or in a burger with some condiments, these patties are sure to tantalize your taste buds and leave you craving for more.

If you are an Aloo fan, no doubt Aloo tikki patties might top your list of favorite potato-based dishes. These patties add life to all the recipes that are simply made from different veggies. So, whether you make a delicious veggie roll out of it or simply dip it in your favorite Soul Foods, it can never go wrong.

So, next time you're looking for a delicious and satisfying snack, give stuffed aloo tikki patties a try. With their crispy exterior, flavorful potato filling, and surprise burst of stuffing, these patties are bound to become a favorite in your household. So, gather the ingredients, follow the patties recipe, and enjoy the delightful indulgence of stuffed aloo tikki patties!
How to make Aloo Tikki Patties Recipe
Aloo Tikki is a delicious Indian snack made from mashed potatoes and a blend of spices. These crispy stuffed aloo tikki are a popular street food item enjoyed by many. If you're looking to make frozen aloo tikki at home, follow this easy recipe for a tasty treat.
Ingredients:
- 4 medium-sized potatoes
- 1/2 teaspoon cumin powder
- 1/2 teaspoon coriander powder
- 1/4 teaspoon red chili powder (adjust according to your spice preference)
- 1/4 teaspoon garam masala
- Salt to taste
- 2 tablespoons cornflour
- Oil for shallow frying
Follow this step-by-step procedure to make Aloo Tikki
First, cook the potatoes. Begin by thoroughly boiling the cleaned and peeled potatoes until they are soft. Poke a clean tooth into one of the potatoes to check the softness. Allow them to cool.



Mash the boiled potatoes in a mixing bowl. Use a potato masher or fork to mash the potatoes until they are smooth and lump-free.
Season with cumin powder, coriander powder, red chilli powder, garam masala, and salt. Mix well until the spices are uniformly distributed among the potatoes.
Divide the potato mixture into equal pieces and form them into round patties. If the dough is too sticky, sprinkle your hands with cornflour to make shaping easier.
Place cornflour on a dish and gently cover each burger with it. When the patties are fried, this will help give them a crispy quality.
Shallow fry the patties first by heating the oil in a pan over medium heat. When the oil is heated, gently lay the stuffed aloo tikki in the pan. Cook until golden brown and crispy on both sides. Flip them lightly to achieve even cooking.



In order to freeze Aloo Tikki. Prepare the mixture, shape it into desired size patties, arrange on a baking sheet, freeze in a single layer, transfer it to a freezer-safe container, store in the freezer, and thaw in the refrigerator. Cook using preferred cooking methods, such as pan-frying, baking, or air frying, when ready to use.
Once the patties are done, take them from the pan and drain the excess oil on a dish towel. Serve with your favorite chutney or preferred sauce.
Whether you make the simple Tikki or the filled variant, these potato patties will fulfill all of your demands. You can eat them as a snack or as part of a meal. Serve them at gatherings or with tea in the evening. Let's check out some of the amazing Aloo Tikki patties serving and pairing suggestions below.

Stuffed Aloo Tikki Servings and Pairings
Stuffed Aloo Tikki, a delectable evening snack, is not only tasty on its own but also flexible enough to be enjoyed in a variety of servings and combinations. Whether you're throwing a party or just looking to have a tasty snack, here are some serving suggestions and delightful pairings that complement your aloo tikki recipe experience.


Aloo Tikki Chaat: Transform your Stuffed aloo tikki recipe into a mouthwatering chaat by topping it with a medley of chutneys, yogurt, chopped onions, tomatoes, and a sprinkle of chaat masala. This tangy and savory street food-style chaat is sure to tantalize your taste buds.


Aloo Tikki Chole: Pair your Aloo Tikki with chole (spiced chickpea curry) for a hearty and filling meal. Serve the tikkis with a generous ladle of chole, garnish with finely chopped onions, coriander leaves, and a squeeze of lemon for a delightful combination of flavors.


Aloo Tikki Wrap: Wrap the Stuffed Aloo Tikki in a warm tortilla or flatbread along with some fresh greens, sliced cucumbers, tomatoes, and a drizzle of yogurt or sauce of your choice. This portable and flavorful wrap makes for a convenient and delicious on-the-go option.


Aloo Tikki Burger: Take your Aloo Tikki to the next level by turning it into a scrumptious burger. Place the tikki in a burger bun and layer it with sliced onions, tomatoes, lettuce, and your favorite sauces. Enjoy the fusion of Indian flavors and the classic burger experience.


Aloo Tikki Salad:

Create a wholesome and healthy meal by placing the Stuffed Aloo Tikki on a bed of mixed greens or lettuce. Top it with cherry tomatoes, cucumber slices, shredded carrots, and a drizzle of dressing. This salad is a perfect balance of textures and flavors.
Take A Look at Some Pairings Suggestions

Whether you serve Stuffed Aloo Tikki as a chaat, with chole, or as a burger, these delicious patties will never let you down. So you can try it out with various chutneys, dips, and accompaniments to find your favourite combo. Treat yourself to the crunchy, savoury richness of Stuffed Tikki to enrich your eating experience.
 
Coriander Chutney:

The vibrant and refreshing

coriander

chutney is a perfect accompaniment for Stuffed Aloo Tikki. Its zesty and herby flavor complements the richness of the tikki, adding a delightful freshness to every bite.
Tamarind Chutney:

The tangy and slightly sweet

tamarind

chutney is another popular condiment that pairs exceptionally well with Stuffed Aloo Tikki. Its sweet and sour taste balances the savory flavors of the tikki, creating a harmonious blend of flavors.
Yogurt Dip: A cooling and creamy yogurt dip is an excellent choice to serve alongside Stuffed Aloo Tikki. Its soothing flavours provide a pleasant contrast to the spiciness of the tikki, creating a refreshing combination.

Pickle: If you enjoy a tangy and spicy kick, serve the Tikki with a selection of pickles. Mango pickles, lime pickle, or mixed vegetable pickles add a tangy and savory element to the dish.


Tomato Ketchup: For a classic combination, serve Stuffed Aloo Tikki with a side of tangy tomato ketchup. The sweetness of the ketchup complements the spiciness of the tikkis, creating a familiar and satisfying taste.


Masala Chai:

To enhance the flavours of patties, enjoy it with a cup of masala chai. The aromatic and flavorful Indian spiced tea will complement the savory tikkis, creating a perfect balance of flavors.
Best Tips for Aloo ki Tikki
Cook the potatoes well -

To ensure smooth and well-cooked Aloo ki Tikki, it's important to boil the potatoes until they are tender and easy to mash. Overcooked potatoes may become too mushy, while undercooked ones can lead to lumpy tikkis. Aloo ki Tikki gets its flavor from a blend of spices. Use a balanced combination of masalas to enhance the taste. Adjust the spice levels according to your preference.
Binding agent -

To help the potato mixture hold its shape and prevent the tikkis from falling apart while frying, add a binding agent like cornflour or breadcrumbs. If you have leftover bread, then soak the slices in water, squeeze well and add to the aloo.




Seal it well - 

For stuffed aloo tikki recipe, make sure to seal the filling properly within the potato mixture. Press the edges firmly to ensure the filling doesn't spill out during frying.

For perfectly crispy tikkis, shallow fry them on medium heat. Place them on a kitchen towel or paper towel to remove any excess oil to avoid greasiness.


For fasting

- In case you decide to make the tikki when you are fasting days, use only arrowroot flour, water chestnut flour, tapioca flour, or buckwheat flour. Also, in place of regular salt, add edible rock salt.
Freezing

- After shaping these Indian potato patties, you can store them in a sealed container or zip-lock bag and freeze them. Thaw the frozen patties before frying them.
By following these tips, you can master the art of making delicious Aloo ki Tikki. So, gather your ingredients, try out different variations, and enjoy these delightful potato patties as a snack, appetiser, or even as a part of a main course.
Conclusion
Aloo Tikki, with its crispy exterior and flavorful potato filling, is a beloved Indian snack that never fails to satisfy. Whether you follow a traditional recipe or experiment with creative variations.
No doubt, it is a versatile dish that can be enjoyed in numerous ways. Pair the aloo tikki recipe with dips and sauces, or even incorporate them into chaats, burgers, or chole for a complete meal. Whether you're savouring the classic Aloo Tikki or exploring the stuffed variations, these delightful potato patties are sure to bring joy to your taste buds. Their popularity as a street food snack is proof of their irresistible flavours and versatility.
Experiment your heart out by trying different Aloo Tikki recipes, and don't forget to pair yummy soulsfoods chutneys along with them. It is a crowd-pleaser whether it's for a casual gathering, a fast snack, or a big event. It provides crispy delight, a rush of spices, and warm contentment. Enjoy the crispy goodness, the burst of spices, and the comforting satisfaction that it brings to the table.
Popular Chutney and Dip on Soulfoods
Schezwan Chutney | Garlic Chutney | Mint Chutney | Coriander Chutney
Date & Tamarind Chutney | Hot Mango Chutney