Tasty Khasta Kachori Recipe: Paired with ADF Soulfoods Chutney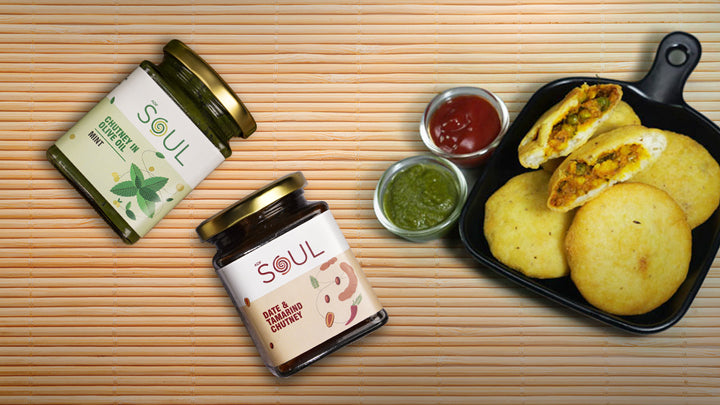 About Khasta Kachori

Khasta Kachori is an Indian snack renowned for its crispiness and flavors. This delightful, deep-fried snack is filled with a savory mixture. It is not only loved in households but also a popular street food in India. If you've ever wondered how to make kachori at home, just like the street-style version. Don't worry, we've got you covered! We'll reveal the secrets to creating this mouthwatering treat. Explore its various regional variations, and even paring suggestions to make with Kachori recipe. So, let's start on this flavorful journey to make Khasta Kachori recipe below.
The Essence of a Perfect Khasta Kachori Recipe
It's important to strike the ideal balance between flavors and textures when creating the perfect Khasta Kachori recipe. This involves making a golden, crispy exterior that has a delectable filling flavored with an array of spices. You can easily taste make this tasty treat by trying out unique combination. Such as moong dal kachori or Dahi Puri Kachori Chaat and many more. Let's check kachori ingredients below.
Khasta Kachori Recipe Ingredients: A Closer Look
The right ingredients are the foundation for elevating the kachori recipe. Let's delve into the traditional Khasta Kachori ingredients, which serve as the building blocks for this recipe.

For the Outer Cover:
All-Purpose Flour
Baking Soda is optional
Water for kneading
Ghee or Oil
Salt

For the Filling of kachori chaat:


Chickpeas
Green Chilies
Ginger
Cumin Seeds
Fennel Seeds
Asafoetida
Red Chili Powder
Garam Masala
Coriander Leaves
Salt
Oil
Step-by-Step Guide: How to Make Khasta Kachori
Are you prepared to don your aprons? In order to make Khasta Kachori from scratch at home, we'll walk you through every step of the process. Your taste buds will be pampered by the flaky, golden crust and the flavorful filling.

1. Prepare the Dal Filling:

Wash and soak the chickpeas in water for about 4 hours. Drain the water and grind the soaked peas into a coarse paste. It should not be too smooth.

Heat 1 tablespoon of oil in a pan. Add cumin seeds, fennel seeds, and Asafoetida. Sauté for a minute. Add the dal paste, green chilies, and grated ginger.

Cook until the dal mixture becomes dry and leaves the sides of the pan. Add red chili powder, garam masala, and salt. Mix well. Remove from heat and let it cool. Once cooled, shape the mixture into small, round balls.

2. Prepare the Dough:

In a mixing bowl, combine all-purpose flour, a pinch of salt, and a pinch of baking soda if you are planning to use it.

Add ghee or oil and mix it into the flour. Gradually add water and knead the dough until it's smooth and firm. Cover with a damp cloth and let it rest for 20-30 minutes.

3. Shape the Kachoris:

Divide the dough into small, equal-sized balls. Roll each ball into a small disc, similar to a puri. Place one dal ball in the center of the disc. Carefully seal the edges, ensuring the filling is completely enclosed. Flatten the filled ball gently.

4. Deep Fry:

Heat sufficient oil in a deep pan for frying. When the oil is hot, gently slide the kachoris into the oil.
Fry them on medium heat until they turn golden brown and crispy. Ensure they are cooked evenly on all sides.

5. Serve:

Drain excess oil by placing kachoris on a kitchen paper towel. Serve hot with tamarind chutney and green chutney. Garnish with fresh coriander leaves.
Moong Dal Kachori Recipe: A Flavorful Filling
For several reasons, the Moong Dal Kachori Recipe can be considered a healthier choice. Moong dal, which is made from mung beans, serves as a rich source of plant-based protein. It enhances the snack's protein content, elevating its nutritional value. Moreover, opting to bake or air fry the kachoris instead of deep-frying them reduces the quantity of oil used and the overall calorie count. Furthermore, moong dal kachori is abundant in dietary fiber, promoting healthy digestion and providing a sense of fullness.
Experiment with Kachori Chaat variations
Experimenting with Kachori Chaat variations can be a fun and creative adventure.
Don't be afraid to get creative with your Kachori Chaat variations. The possibilities are endless, and you can cater to different tastes and dietary preferences. Enjoy the process of experimenting with flavors, textures, and presentations. Here are some ideas to help you create unique and exciting Kachori Chaat variations:
Paneer Kachori Chaat:
Enhance your chaat with creamy and protein-rich paneer cubes. The paneer cubes give the chaat a delicious texture in addition to adding a filling and healthy component. A truly decadent culinary experience is produced by their creamy and rich flavor, which perfectly pairs with the tangy and spicy flavors of the chaat.
Aloo Tikki Kachori Chaat:
Introduce aloo tikki to your Kachori for an extra layer of crunch and flavor. The flaky kachori and the crispy aloo tikki make for a delightful texture contrast. A mouthwatering treat for your taste buds, the aloo tikki's savory and aromatic spices pair perfectly with the chaat's tangy and spicy flavors.
Dahi Puri Kachori Chaat:
Crush Kachori to create a base for a Dahi puri-inspired Kachori Chaat. Top it with yogurt, chutneys, and garnishes. The creamy yogurt and tangy chutneys add a refreshing element to the rich and savory Kachori base. The combination of flavors creates a burst of taste in every bite, making it a must-try for chaat lovers.
Sprouts Kachori Chaat:
Add sprouted moong beans or other legumes for extra freshness and nutrition. The sprouts give the Kachori Chaat a crunchy texture and a tinge of sweetness. The sprouts combine with the tangy, spicy, and chaat-like flavors of the dish to create a satisfying, well-balanced meal that is also nourishing.
Raj Kachori:
The Raj Kachori is a visually appealing and indulgent chaat, featuring a larger Kachori base and savory fillings like boondi and sev. Its combination of crispy Kachori, savory textures, and a burst of flavors makes it perfect for those seeking an extravagant and satisfying experience.
Soulfood's Chutney: The Perfect Pairing for Kachori Chaat
Enhance your experience by introducing a burst of complementary flavors with Soulfoods chutneys for your Kachori Chaat. These chutneys are expertly crafted to infuse your Kachori Chaat with a delightful blend of spice and tang. You can add coriander, tamarind, and mint chutneys to your chaat to create the ideal flavor combination. With Soulfoods chutneys, you can elevate your palate and craft a truly remarkable Kachori Chaat. Here's the perfect chutney pairing for your Kachori Chaat from Soulfood.

1. Coriander Chutney: The vibrant, green chutney is a classic choice to accompany Kachori Chaat. Its freshness, herbaceous notes, and mild spiciness are a perfect complement to the spicier elements of the chaat.

2. Tamarind Chutney: Tamarind chutney is the sweet and tangy counterpart to the savory and spicy components of Kachori Chaat. Its rich, syrupy texture and deep, fruity flavor create a delightful contrast.

3. Garlic Chutney: If you enjoy a bit of heat and a distinct garlic kick in your chaat, the Soulfoods Garlic Chutney is an excellent choice. Its bold flavor can enhance the overall experience.

4. Mint Chutney: A mint chutney is a great addition for the khasta kachori. It is infused with various herbs and spices, can provide an additional layer of complexity and freshness to your chaat.
Serving and Presentation Tips
A well-presented dish not only looks appetizing but also enhances the overall dining experience. Here are some serving and presentation tips to make your Kachori Chaat visually appealing and inviting:

Garnish with Fresh Herbs: Just before serving, garnish the chaat with a generous handful of fresh coriander leaves and maybe some mint leaves. The vibrant green colors add freshness to the dish.

Layer the Ingredients: When serving, consider layering the components. Start with the Kachori pieces, add the moong dal filling, then drizzle chutneys, and top with yogurt, sev, and garnishes for a visually pleasing arrangement.

Add a Pop of Color: To enhance the visual appeal, you can add a pop of color by sprinkling a pinch of red chili powder, chaat masala, or even pomegranate arils for a dash of red.

Balance of Textures: Pay attention to the balance of textures. Ensure there's a harmonious mix of crunch from the sev and Kachori, creaminess from the yogurt, and juiciness from the chutneys of your choice.
Conclusion 
Now that you've unlocked the secrets of the perfect Khasta Kachori recipe, it's time to put your culinary skills to the test! Don't hesitate to pair it with Soulfoods Chutney to elevate your dish. The crunchy and flavorful Khasta Kachori beautifully complements the tasty and tangy Soulfoods Chutneys. Its distinct flavor will add an extra layer of deliciousness. There's no doubt that it's a crowd-pleaser for any event or evening time. The combination of Soulfoods Chutney and Khasta Kachori is sure to impress your guests. Make sure to try the pairing suggestion and experiment with Kachori Chaat variations. Happy cooking!