Spice Up Your Snack Time with this Baked Homemade French Fries Recipe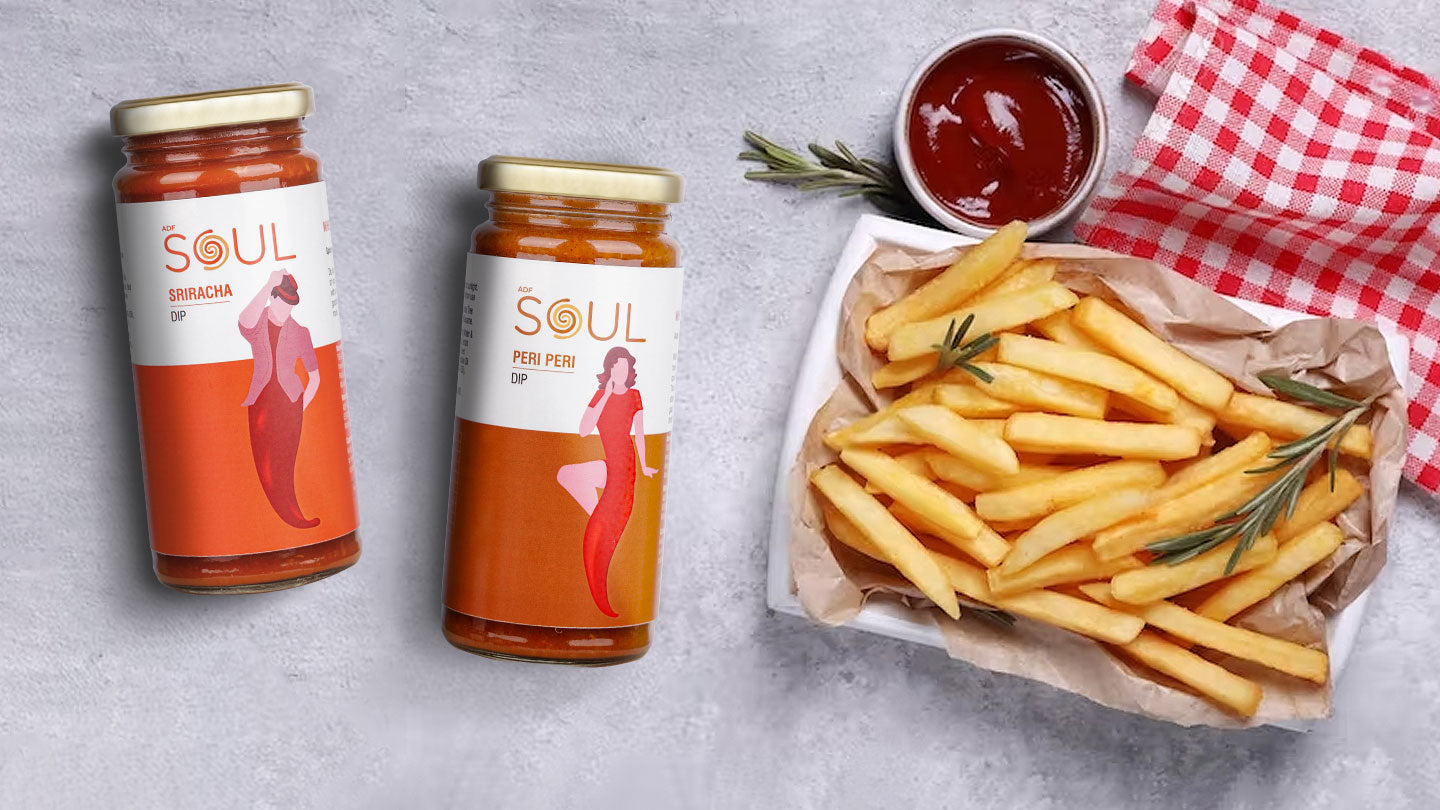 French fries are a classic snack enjoyed by people all over the world. However, most French fries that you buy at restaurants or fast food chains are deep-fried, which can make them unhealthy and high in calories. Making baked french fries is a great way to satisfy your craving for this delicious snack while also keeping it healthy.
Baked homemade french fries are a healthier alternative to traditional deep-fried fries because baking the fries instead of deep-frying reduces the overall fat content and calories, making them a healthier snack option. You can season them with anything from simple salt and pepper, and you can pair them with a wide variety of dipping sauces. In this article, we will learn how to make french fries at home, discuss the french fries ingredients needed, and the best dips to pair with them.
Baked French Fries Ingredients 
The french fries Ingredients required to make the perfect baked oven french fries are as follows:
3 tablespoons extra-virgin olive oil, divided

1 1/2 pounds golden yellow potatoes, Yukon Gold or similar, about 4

1 teaspoon kosher salt, plus additional to taste

1 teaspoon garlic powder

1/2 teaspoon dill weed

1/4 teaspoon onion powder

1/4 teaspoon ground black pepper
Optional toppings that you can add are:
Fresh parsley

Chives

Freshly grated Parmesan cheese (or nutritional yeast)
With these simple french fries ingredients, you can successfully nail your homemade french fries recipe!
Recipe for How to Make French Fries at Home
Now let's take a look at the oven french fries recipe with step-to-step instructions:
To make delicious and crispy homemade French fries, start by preheating your oven to 450 degrees F and positioning a rack in the lower third of the oven. Next, drizzle a large rimmed baking sheet with 1 1/2 tablespoons of olive oil and brush it as needed to evenly coat the pan. 
Scrub the potatoes clean, and if you prefer, peel them. Cut the potatoes into 1/4-inch-wide sticks and place them in a large bowl. Pour hot tap water over the potatoes so that they are covered by at least an inch of water. Let them soak for about 10 minutes.
After 10 minutes, drain the potatoes and pat them dry with a clean towel, making sure to remove as much moisture as possible. In the same bowl, you soaked the potatoes in, drizzle the remaining 1 1/2 tablespoons of olive oil and sprinkle the potatoes with salt, garlic powder, dill weed, onion powder, and black pepper. Toss the potatoes to coat them evenly with the spices and oil. 
Spread the potatoes in a single layer on the prepared baking sheet and roast them in the lower third of the oven for 15 to 20 minutes or until they begin to turn golden brown underneath. Remove the baking sheet from the oven and carefully loosen the fries from the bottom of the pan with a large, firm spatula. Flip them in large sections so that they brown evenly on all sides. Return the potatoes to a single layer, using your fingers to avoid burning yourself. 
Place the baking sheet back in the oven and bake the fries for an additional 5 to 10 minutes or until they are as golden and crispy as you like. Once done, remove from the oven and sprinkle with any desired toppings such as fresh parsley, chives, Parmesan cheese, or nutritional yeast. Add a pinch of salt to taste, and enjoy your homemade baked French fries right away!



Now you know how to make french fries at home the healthy way! So, what are you waiting for? Go ahead and try making some crunchy baked fries yourself!

See Also: Healthy Indian Snacking Made Easy with Our Air Fry and Baked Samosas Recipe
Health Benefits of Homemade Baked French Fries 
Homemade baked french fries are a healthier option compared to traditional deep-fried fries due to their preparation method. By baking the fries in the oven, you eliminate the need for excess oil and fat, which can lead to weight gain and other health issues. Additionally, by using natural ingredients such as olive oil and fresh herbs, you are consuming fewer preservatives and additives that are often present in frozen or fast food fries. 
Baked homemade french fries are also suitable for individuals with specific health conditions or dietary restrictions, such as those who need to limit their salt intake. By controlling the amount of salt and seasoning used in the recipe, you can reduce the overall sodium content of the dish. Additionally, by using alternative ingredients such as sweet potatoes, you can make the dish suitable for those following a low-carb or gluten-free diet. 
Overall, homemade baked fries are a healthier snack option that can be customized to meet individual dietary needs. By preparing the french fries at home, you have complete control over the ingredients used, allowing you to make a delicious and nutritious snack that the whole family can enjoy.
Dips for Homemade Baked French Fries 
Peri peri dip is the perfect accompaniment to crunchy baked fries. This flavourful dip is made with a blend of spices, including chilli, paprika, garlic, and lemon juice, giving it a spicy and tangy taste that pairs perfectly with the mild sweetness of the potatoes. The dip's heat is balanced by the sweetness of the baked french fries, creating a delicious contrast of flavours. Not only is peri-peri dip delicious, but it is also a healthier option compared to other dips.
Sriracha is a popular hot sauce made from chilli peppers, vinegar, garlic, sugar, and salt, and is known for its fiery kick and spicy flavour. When paired with oven french fries, it makes for a delicious and flavourful dipping sauce. Sriracha dip is a great option for those who enjoy spicy food and want to add an extra layer of flavour to their crunchy baked fries. You can simply mix together sriracha sauce with a creamy base like Greek yoghurt or mayonnaise. The creaminess of the dip helps to balance out the heat from the hot sauce and creates a smooth texture that pairs well with the crispy texture of the baked fries. 
You can get premium quality Peri-Peri Dip and Sriracha Dip only from the Soul Foods website. Whether you're looking for a quick and easy snack or a side dish for a meal, baked homemade french fries with either sriracha or peri-peri dip is a delicious and satisfying choice that will leave you craving more.
Conclusion 
In conclusion, if you're looking for a delicious and healthy snack option, these baked homemade french fries are a perfect choice. They are easy to prepare and can be customized to your taste with different spice blends and dipping sauces. With this baked french fries recipe, you can satisfy your cravings for a crunchy and satisfying snack without the guilt that comes with deep-fried alternatives. Also, don't forget to try these crunchy baked fries with our range of dips, mainly peri-peri and sriracha. Give this french fries recipe a shot and enjoy a delicious and healthier snack option that is sure to become a favourite in your household.
Popular Dips on Soulfoods
Chipotle Barbeque Sauce and Dip | Salsa Sauce and Dip | Chilli Oil Dip | Peri Peri Dip | Sriracha Sauce & Dip | Habanero Salsa Dip