The Ultimate Recipe Guide: How to Make Chinese Bhel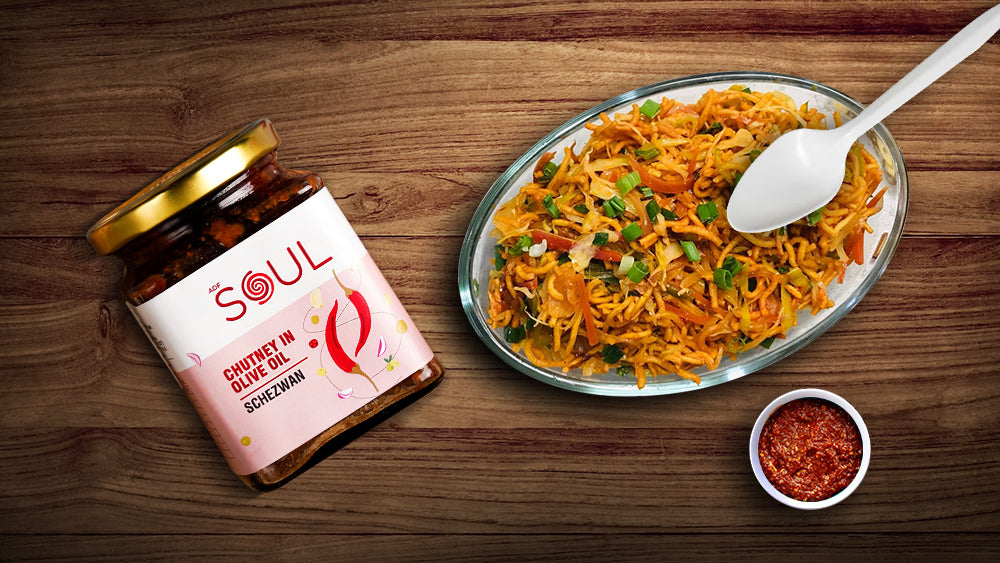 About Chinese Bhel
A popular street food snack, Chinese Bhel represents a delicious fusion of Indian and Chinese flavors. It seamlessly combines the crunch of traditional Bhel with the zesty flavors of Chinese cuisine. The Chinese Bhel recipe is a must-try street food for all age groups. This mouthwatering dish comes to life by tossing together crispy noodles and a variety of fresh vegetables, complemented by a tangy chutney. In this guide, we'll provide a step-by-step tutorial on how to make Chinese Bhel in the comfort of your own kitchen. Served as either a perfect appetizer or an evening snack, veg Chinese Bhel promises to be a delightful treat.
Chinese Bhel Recipe: Step by Step Guide
Chinese Bhel, is a street food that has gained popularity across India. Combining the crispiness of veg noodles with bold spices and veggies, this fusion dish is a burst of savory goodness. In this step-by-step guide, we'll walk you through the process of making Chinese Bhel recipe at home. Get ready to begin a flavorful adventure as we dive into making this delicious snack.
Preparation for Chinese Bhel
Before we start with the recipe, let's ensure we have all the necessary Chinese bhel ingredients. Here are the main ingredients required to make delicious veg Chinese bhel recipe.
Veg Chinese Bhel Ingredients
For the Bhel Mixture:
- 1 cup of fried noodles
- 1/2 cup of finely chopped cabbage
- 1/2 cup of finely chopped capsicum, preferably in multiple colors for a vibrant appearance
- 1/2 cup of finely chopped carrots
- 1/4 cup of finely chopped spring onions
- 2-3 tablespoons of sesame seeds, lightly roasted
- 2-3 tablespoons of chopped fresh coriander leaves for garnish
- Salt to taste
- 1-2 tablespoons of oil for frying noodles
For the Chinese Bhel Chutney
- 2 tablespoons of oil any vegetable oil
- 2-3 cloves of garlic, minced
- 1-inch piece of ginger, minced
- 1-2 green chilies, finely chopped (adjust to your spice preference)
- 2 tablespoons of tomato ketchup
- 1 tablespoon of soy sauce
- 1 teaspoon of red chili sauce (adjust to taste)
- 1/2 teaspoon of sugar
- 1/2 teaspoon of black pepper powder
- Salt to taste
Now that we have our ingredients ready, let's dive into the step-by-step process of making Veg Chinese Bhel below.
How to Make Veg Chinese Bhel 
Step 1: Frying the Noodles
Heat 1-2 tablespoons of oil in a pan or wok over medium heat.

Once the oil is hot, add the Hakka noodles. Fry them while stirring continuously until they turn golden brown and crispy. This usually takes about 3-4 minutes.

Take off the fried noodles from the pan and place them on paper towels to drain the excess oil. Set them aside.
Step 2: Recipe for the base chutney

1. In the same pan, add 2 tablespoons of oil and heat it. Add minced garlic, minced ginger, and chopped green chilies. Sauté them for a minute or until they release their aroma.
2. Add tomato ketchup, soy sauce, red chili sauce, sugar, black pepper powder, and a pinch of salt. Stir well and cook for another minute or until the chutney thickens slightly.
3. Adjust the spice levels to your liking by adding more or less chili sauce. Once the chutney is ready, take it off from heat and let it cool.
4. If you're running out of time and don't have the ingredients to make chutney at home, you can use Soulfoods' readily available Schezwan chutney, which provides authentic flavors just like homemade chutney.
Step 3: Assembling the Chinese Bhel
In a large mixing bowl, combine the fried noodles, chopped cabbage, bell peppers, carrots, spring onions and other veggies of your choice. 

Drizzle the prepared Bhel chutney over the mixture. Start with a portion of the chutney, toss the ingredients, and add more chutney if needed. Ensure that all the ingredients are well coated with the chutney.

To check the spice levels taste one or two tsp. Adjust the salt or spice levels if necessary.  Garnish your Chinese Bhel with chopped coriander leaves for freshness and contrasting color combination. 

The veg Chinese Bhel is now ready to be served! This special Chinese Bhel bursts with flavors are perfect to satisfy your hunger pangs.
Variations of Indian Veg Chinese Bhel
Different Variations of Indian Veg Chinese Bhel gives you exposure of wide range of flavors. You can adjust the ingredients and spices to match your taste. These unique variations of Indian Veg Chinese Bhel allow you to experiment with different flavors and textures while still enjoying the fusion of Indian and Chinese cuisines. Don't hesitate to customize the ingredients and spices to suit your taste preferences. 
Schezwan Bhel:

Elevate your Chinese Bhel with the authentic flavors of Soulfoods' Schezwan chutney. This addition brings a spicy kick and a unique twist to the dish, perfectly complementing the crunchy Bhel ingredients with its bold and fiery taste.

Manchurian Bhel:

For a fusion of Indian and Chinese flavors, try Manchurian Bhel. Combine crispy Manchurian balls with traditional Bhel ingredients like puffed rice and sev. To bring it all together, simply mix in a drizzle of Manchurian sauce with the Chinese Bhel batter.

Chow Mein Bhel:

Create a noodle based Bhel with Chow Mein Bhel by mixing stir-fried vegetable chow mein noodles with Bhel ingredients. To enhance the flavor you can also add some soya chunks, making it a flavorful and satisfying dish.

Hakka Noodle Bhel:

To achieve a unique texture in Hakka Noodle Bhel, start by boiling and deep-frying the noodles. Then, toss them with vegetables, sauces, and spices to create a flavorful and crunchy taste.

Paneer Chilli Bhel:

Add a spicy twist to your Bhel with Paneer Chilli Bhel. Add the chunks of spicy paneer tossed in chili sauce. The creamy paneer perfectly complements the crunch of the Bhel ingredients, creating a mouthwatering combination.
Serving tips for Chinese bhel recipe
Chinese Bhel should be served immediately to maintain its crispiness. It's essential that it retains its crunch when served. You have the flexibility to prepare and mix everything ahead of your guests' arrival. 
Furthermore, it's a fantastic choice for a getaway or picnic. Just pack the noodles and vegetables separately in containers and combine them when you're ready to eat.
These crispy Indian noodles are a hit at various occasions, including events, family brunches, and date nights. Your entire guest list will be thrilled because it not only looks incredible but also tastes amazing!
Conclusion
Give this Chinese Bhel recipe a try! It's bound to delight your taste buds and impress your guests, whether you're hosting a party or craving a quick snack. With just a handful of basic ingredients like noodles, vegetables, and chutney, you can whip up this easy to make bhel recipe in no time. It's a perfect choice for those who love the fusion of different culinary traditions. 
Moreover, feel free to experiment with the seasonings and toppings as per your liking. And for an extra kick of spice, don't forget to add Soulfoods Schezwan Chutney to this Chinese Bhel recipe. So, unleash your creativity in selecting your veggies and spices, and savor the classic Chinese Bhel at the comfort of your home!
Frequently Asked Questions
Can we use non-fried noodles to make Bhel?

Yes, you can use non-fried noodles to make Chinese Bhel. Boil the noodles until they are al dente, drain them, and then add them to your Bhel mixture. Keep in mind that using non-fried noodles will result in a different texture compared to crispy fried noodles.



What vegetables are added in Chinese Bhel?
The most commonly used vegetables in Chinese Bhel include finely chopped cabbage, bell peppers, carrots, and spring onions. However, you can personalize the vegetable mix based on your preferences and the ingredients that are available at home. 
Can we air fry noodles?
Yes, you can air fry noodles to make them crispy. Toss the noodles with a small amount of oil and air fry them until they become golden and crunchy. This is a healthier alternative to deep-frying.
Can we make Chinese Bhel ahead of time?
While it's best enjoyed fresh to preserve its crunchiness, you can prepare the base chutney ahead of time. However, keep the bhel mixture, fried noodles, and chutney separately. You can mix them all as required just before serving to maintain the optimal texture and flavors.