A Fiesta in Every Bite: Mouthwatering Mexican Tacos Recipe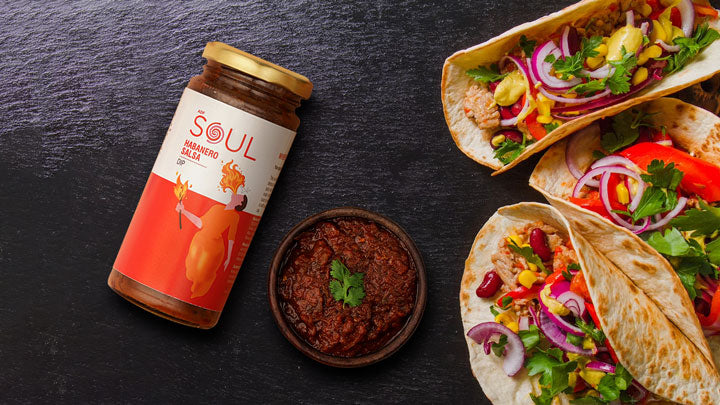 If you come across Mexican cuisine you will notice that always has this colourful palate. From Chilaquiles, Huevos rancheros, Tacos and so on have won people's hearts all around the world. In this blog, we will discover a Mouthwatering Mexican taco recipe that can be easily done at home with the availability of taco ingredients. 
I'll be presenting a recipe for tacos, one of the most popular foods in Mexican cooking, in this lesson. A soft or hard tortilla is stuffed with various ingredients such as beans, cheese, and veggies to make tacos, a typical Mexican cuisine. Salsa, guacamole, and other toppings are frequently used to add flavour and texture to the dish.
Today, tacos are a staple of Mexican cuisine and are adored by people everywhere. They are a symbol of Mexican culture and are usually seen during fiestas, events, and gatherings of families. Tacos have even become a popular street snack even in India. Interestingly you can give a touch of indian cuisine to mexican tacos. So whether it be veggie tacos or made with meat you have the liberty to do it as per your preferences. 
Mexican Veggie Tacos Ingredients
Mexican tacos are a beloved dish around the world, and making them from scratch can be a fun and rewarding experience. A great place to start is with a classic taco recipe that includes all the essential taco ingredients, such as meat or vegetable, onions, and spices. But don't forget about the taco shell recipe, which is just as important for achieving that perfect crunch. With the right taco ingredients and shell recipe, you can create endless variations of this beloved dish that will surely impress your family and friends.

Let's check out how you can make delicious Mexican tacos at home with all the ingredients available in your kitchen. However, there is no major equipment necessary for making taco recipes unless like cooking utensils, knives, and cutting boards. The ingredients that you mostly required to make tacos such as taco shells, meat or vegetables for filling, cheese, lettuce, salsa, and various spices and seasonings.

1 Paneer 
1 tbsp. of olive oil
1 tbsp. of chilli powder
1 tsp. of cumin
1/2 tsp. of garlic powder
Salt and pepper to taste
1 can of black beans, drained and rinsed
1/2 cup of chopped onion
1/2 cup of chopped bell peppers
1/2 cup of shredded cheddar cheese
8-10 soft or hard taco shells
Optional toppings: salsa, guacamole, chopped tomatoes, lettuce, sour cream, or cilantro
Step-by-Step Instructions to Make Vegetarian Mexican Tacos
You have the freedom to substitute the paneer with any kind of meat such as chicken, pork, beef, or even vegetarian alternatives like tofu or tempeh. For vegetarian taco recipe you can also add a variety of veggies to enhance the flavour and nutrition of the veggie tacos, such as spinach, corn, or zucchini. For an alternative filler, you could use beans like pinto or refried beans. Cumin, garlic powder, salt, and pepper are key ingredients that give the taco filling a rich and complex flavour. The onions and bell peppers add sweetness and a satisfying crunch, while the cheese contributes a creamy texture and salty taste. When frying the meat and vegetables, it is recommended to use a nonstick pan or a cast-iron skillet. For taco shell recipe warm and pliable by wrapping them in foil or using a tortilla warmer. If desired, you can either purchase tortillas from the store or make your own using a tortilla press for taco recipe.
Heat the olive oil in a skillet over medium heat. Add the chopped vegetables and cook for 5-7 minutes, until they are tender.

Add the drained and rinsed black beans to the skillet with the vegetables. Add the chilli powder, cumin, salt, and pepper to the skillet, and stir to combine. Cook the taco ingredients for an additional 2-3 minutes until everything is heated through.

Warm up the taco shells or tortillas 

Assemble the tacos by placing a spoonful of the vegetable and bean mixture into each taco shell or tortilla. Top with shredded lettuce, diced tomatoes, avocado, salsa, shredded cheese, cilantro, and a squeeze of lime juice if desired. Serve and enjoy your vegetarian tacos!
Serving Suggestions and Variations with Tacos
Let's check out some amazing variations of serving suggestions that will give you ideas for exploring and experimenting with Mexican tacos.

To make your veggie tacos even more delicious, try adding the Habanero Salsa Dip from Soul Foods. This spicy salsa is the perfect addition to your tacos, providing a fiery kick that's sure to please your taste buds. You'll love how this dip pairs with tortilla chips, offering a flavorful and spicy complement to your snack. And it is classic Mexican dishes like tacos, this salsa adds both heat and flavour.
Grilled meats like chicken, beef, or pork are enhanced by the addition of habanero salsa, while seafood dishes like shrimp, crab, or lobster benefit from the pairing of heat and flavour. For vegetables such as carrots, celery, bell peppers, and scrambled eggs or omelettes, habanero dipping sauce can be a great accompaniment for a spicy breakfast.
Rice and beans can also benefit from the addition of habanero sauce, which can be used as a topping to add spice to your side dish. Sandwiches can be given a spicy kick with the addition of this spicy Mexican salsa as a spread. These are just a few of the many pairings that can be enjoyed with habanero sauce. Experiment and get creative to find the perfect pairing for your taste buds!
Spicy Chicken Tikka Tacos: Marinate chicken in a mixture of yoghurt, ginger, garlic, and spices like garam masala and chilli powder. Grill or pan-fry the chicken until cooked through, and then slice it into strips. Serve the chicken on warm tortillas with a drizzle of mint yoghurt sauce and a sprinkle of chopped cilantro.
Paneer Tikka Masala Tacos: Cut paneer into small cubes and marinate in a mixture of yoghurt, ginger, garlic, and spices like cumin, coriander, and turmeric. Grill or pan-fry the paneer until browned, and then serve it on warm tortillas with a spoonful of tomato-based masala sauce and some sliced red onion.
Chana Masala Tacos: Heat up a can of chickpeas in a skillet with some onions, garlic, and spices like cumin, coriander, and turmeric. Mash some of the chickpeas to create a thicker filling. Serve the chickpeas on warm tortillas with a dollop of yoghurt or sour cream and some chopped fresh cilantro.
Aloo Gobi Tacos: Cook diced potatoes and cauliflower in a skillet with some spices like cumin, coriander, and turmeric. Add in some diced onion and garlic for flavour. Serve the veggies on warm tortillas with a spoonful of chutney or yoghurt and some chopped fresh cilantro.
Tandoori Shrimp Tacos: Marinate shrimp in a mixture of yoghurt, ginger, garlic, and spices like cumin, coriander, and paprika. Grill or pan-fry the shrimp until pink and slightly charred. Serve the shrimp on warm tortillas with a drizzle of mint yoghurt sauce and some sliced red onion.
With its spicy and delicious flavour, habanero salsa sauce is a must-have condiment in any kitchen. So, what are you waiting for? Add this Habanero Salsa dip to spice up your meal today. Our habanero sauce is the best spicy salsa to buy from Soulfoods.
See also: Veg Steamed Momos Recipe 
Conclusion 
The taco recipe mentioned in this blog is definitely going to be more than just a tasty and convenient to make. No doubt mexican tacos represent the vibrant culture of Mexico and has also become a staple food for many. We hope that through this article, learned to make the classic vegetarian taco recipe and suggestions for customised taco ingredients to inspire making Tacos at home. Mexican cuisine is a treasure trove of bold flavours and ingredients and that totally exudes in the habanero sauce offered by Soulfoods.

So If you're craving for more delicious and authentic Mexican dishes, why not check out  International Gourmet section of Soulfoods. They offer a variety of mouth-watering options that will surely satisfy your taste buds. Visit their website or drop by their restaurant today to experience the best of Mexican cuisine. Bon appétit!
Popular Dips on Soulfoods
Chipotle Barbeque Sauce and Dip | Salsa Sauce and Dip | Chilli Oil Dip | Peri Peri Dip | Sriracha Sauce & Dip | Habanero Salsa Dip