Experience the Magic of South Indian Cuisine with this Dosa Recipe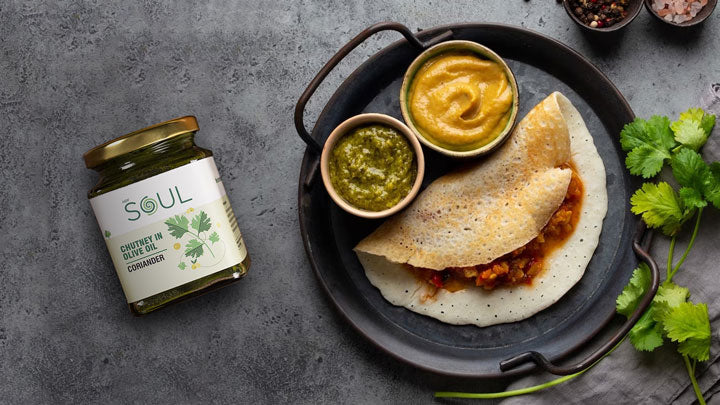 As we already are aware of the fact that the South part of India is not only rich in cultural heritage owing to its history of different dynasties, invasions, and rulers. But it has majorly impacted cuisine too! Therefore, south indian dosa has gained popularity worldwide as they are easy to make recipes and are very nutritious packed.
In this blog, we will share a traditional dosa recipe that combines rice and lentils. We will also include a how to make dosa with a  classic dosa accompaniment, coconut chutney. Anyone interested in discovering the flavours and textures of South Indian cuisine should give this recipe a try.
What is Dosa?
One of the most popular South Indian dishes is the dosa, it is a fermented batter that is then poured into the form of a flat pancake. Interestingly, you can make endless permutations and combinations of the batter and the filling. It is a perfect breakfast meal that offers a mixture of flavours, spices, and ingredients that can be made quickly.
The dosa batter recipe was originally cooked only with rice flour, but subsequent versions of the dish included additional Ingredients like lentils, poha, and so on to get the crunch. Most importantly, in South India, dosa has a special cultural meaning and is frequently related to significant religious and festival occasions.
On the other hand, Dosa is a versatile dish that can be enjoyed as a snack, a meal, or as part of a meal. What makes eating dosa exciting is it is served with accompaniments such as sambar, coconut chutney, coriander chutney, or a variety of other condiments.
South Indian Dosa Ingredients Required 

When it comes to making dosas at home, having the right dosa batter ingredients and equipment is crucial. To make the perfect dosa, you'll need a good dosa batter recipe and the right dosa recipe ingredients. The batter typically includes a combination of rice and black lentils that have been soaked overnight and then ground into a smooth paste. 
For the dosa recipe ingredients, you'll also need oil or ghee for frying the dosas, as well as salt to taste. In addition to the ingredients, you'll also need a dosa tawa or griddle, which is a flat pan specially designed for making dosas. The dosa must also be cooked on a nonstick griddle or in a cast-iron skillet. Although a cast-iron skillet can be used, a non-stick griddle is recommended because it uses less ghee or oil to prevent sticking. With the right recipe and techniques, you can create crispy, flavorful dosas that are sure to be delicious. Let's check out how to make dosa further in the blog. 
Here are the Ingredients for crispy dosa

½ cup urad dal (or whole-skinned black gram)

¾ to 1 cup water (to blend dal)

1½ cups rice (regular raw rice or basmati rice, )

½ cup water (to blend rice, may need 2 tbsp more)

2 tablespoon chana dal (Bengal gram)

½ teaspoon fenugreek seeds (methi seeds) (optional)

2 tablespoons poha (flattened rice)

½ teaspoon rock salt (or non-iodized salt or crystal salt)

Oil or ghee, for greasing 
Here are the ingredients used for making the masala to stuff inside crispy dosas.
2 medium-sized potatoes, boiled and mashed

1 onion, finely chopped

2 green chillies, finely chopped

1/2 tsp mustard seeds

1/2 tsp cumin seeds

A pinch of asafoetida (hing)

1 sprig of curry leaves

1/4 tsp turmeric powder

Salt, to taste

2 tbsp oil
How to Make Dosa? 
Let's explore how to make dosa delicious just like the restaurant style. The texture and flavour of dosas can be significantly impacted by the type of dosa batter ingredients used. For example, rice and lentils and so on are used in the preparation. While some recipes call for boiled or mixed white rice, plain white rice is the more commonly used variety. Parboiled rice, which is partially cooked before being dried, can help create dosas with a crispy texture. 
Additionally, to ensure a smooth batter, it is important to use skinned urad dal (black lentils) in the recipe. Fenugreek seeds are also commonly added to the batter, not only to add fermentation but also to provide a mild flavour. By carefully selecting dosa recipe ingredients, you can create homemade dosa with the perfect texture and taste that are sure to satisfy your cravings for this delicious South Indian dish.
To make a smooth batter out of rice and lentils, South Indian homes frequently utilise a wet grinder, a specialised piece of equipment. A blender can be used in its place if you don't have a wet grinder, but the dosa batter recipe may come out to be thick but frequent rotation can give you quite a smooth paste. 
Rinse the rice and urad dal separately in water, then soak them in enough water to cover them for at least 4 hours, or overnight.





After soaking, drain the water from the rice and urad dal, and add them to a blender or wet grinder. Add fenugreek seeds and blend into a smooth batter, adding water as needed. The batter should be of pouring consistency. Transfer the batter to a large bowl, and add salt to taste. Mix the batter well.





Cover the bowl with a lid or a clean cloth, and set it aside in a warm place for 6-8 hours or overnight to ferment. The batter should rise and become slightly frothy. After fermentation, give the batter a good stir. If it's too thick, add a little water to thin it out.





Heat a non-stick pan or a cast-iron skillet on medium heat. Once the pan is hot, grease it with a little oil or ghee using a kitchen brush or a folded piece of paper towel. Using a ladle, pour a ladleful of batter onto the centre of the pan, and quickly spread it in a circular motion using the back of the ladle, to form a thin, round pancake.





Drizzle a little oil or ghee around the edges of the dosa, and let it cook for 1-2 minutes, or until the edges start to turn golden-brown and the surface looks cooked.





Using a spatula, gently lift the edges of the dosa, and then fold it in half or roll it up. Serve hot with sambar, coconut chutney, or any other accompaniment of your choice. Enjoy your delicious and crispy sada dosa!
See Also: Pasta Perfection: The Best Sauce Pairings for Every Type of Pasta
Here is a recipe for the masala (potato filling) that is commonly used as a stuffing for dosas:
Heat oil in a pan and add mustard seeds. Once they start spluttering, add cumin seeds, asafoetida, and curry leaves. Stir fry for a few seconds.

Add chopped onions and green chillies to the pan and sauté until the onions turn translucent. After simmering for a while add turmeric powder and salt to the pan and mix well. Add the mashed potatoes to the pan and mix well, ensuring that the spices and onions are evenly cooked. Make sure your flame is on low heat.

Once the potato masala is heated through, turn off the heat and let it cool down.

Use this masala as a filling for dosas by spreading a spoonful of it on one half of the dosa and folding it over the other half. Enjoy your delicious homemade Masala dosa!
Serving Suggestions with South Indian Dosa
Now that you have understood how to make a dosa recipe, let's check out a few serving suggestions and variations that work wonders to elevate the taste of the dish.
The dosa recipe can be customised in various ways by adding seasonings such as cumin, coriander, or turmeric to the batter. Additionally, finely diced veggies like onions, carrots, or bell peppers can be included in the batter, along with chopped herbs such as mint or cilantro. For a twist, grated cheese such as cheddar or paneer can be added to the batter. 
Dosa is commonly served with condiments including sambar, coconut chutney, and tomato chutney.

A popular accompaniment for dosa is coriander chutney, which is made by blending fresh coriander leaves, roasted peanuts, green chillies, garlic, salt, and water to form a chutney. It complements south indian dosa perfectly with its sour and spicy flavour. To cut the hassle try out delicious coriander chutney from Soul Foods!
Coconut chutney is made with grated coconut, roasted chana dal, green chillies, ginger, and salt combined to make coconut chutney.
Likewise, A common South Indian dish called sambar is a lentil-based vegetable stew that is seasoned with a special mixture of spices and tamarind pulp. It is a savoury and tangy dish that can be eaten on its own or as a side dish dosa.
Moreover, Tomato chutney is made using ripe tomatoes, onions, garlic, and a blend of fragrant spices. It is a versatile condiment that pairs well with a range of dishes such as dosa, idli, or rice and adds a burst of flavour to any meal.
Conclusion
With the help of this blog, we hope that you now have a clear understanding of how to make dosa at home. By following the step-by-step instructions of the dosa batter recipe, you can successfully create that crispy south indian dosa. Feel free to experiment with different fillings for the dosa batter recipe according to your preferences. And don't forget to add those bursts of flavour from the delicious chutneys! Visit Soulfoods to purchase lip-smacking coriander chutney that perfectly complements the dosa recipe. Don't wait any longer to experience the deliciousness and cultural significance of this South Indian dish.
Popular Chutney on Soulfoods
Schezwan Chutney | Garlic Chutney | Mint Chutney | Coriander Chutney