The Perfect Pairing: Green Chutney Recipe and Indian Street Food Delights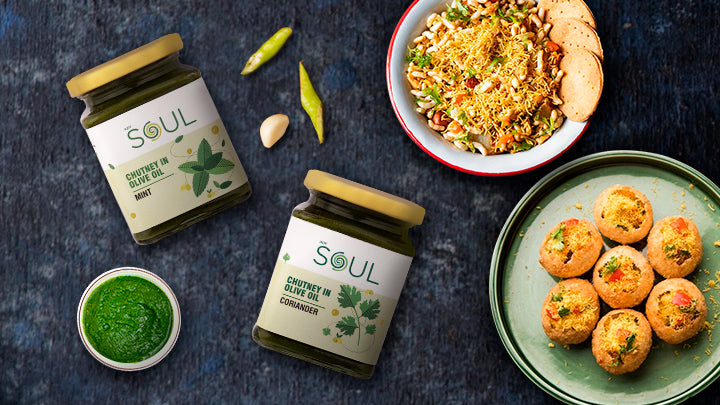 Enjoy the wonderful flavor of green chutney, a beloved condiment with special significance in Indian cuisine. This brilliant green chutney is made with fresh mint leaves, coriander, green chilies, garlic, lemon juice, and a perfectly balanced combination of spices. It is a true flavor powerhouse that brings meals to life. For those seeking an authentic and unique culinary experience, green chutney is the perfect companion. It instantly enhances every bite, whether it's the tangy zest it brings to sandwiches, the exciting kick it adds to chaats, or the refreshing burst it provides to a variety of other dishes.

Make an Authentic Green Chutney Recipe at Home
Making an amazing green chutney recipe at home is more easier than you would think. This delightful condiment, which is commonly used in Indian cuisine, may be created with readily available fresh ingredients. Learn how to make your own green chutney, an adaptable and appealing relish that gives a wonderful touch to a variety of food styles. The joy of preparing green chutney at home is the ability to modify it to your liking. Take pleasure in the satisfaction of making something genuine and homemade that adds a burst of flavor to your meals. Follow the easy-to-follow green chutney recipe outlined in the blog ahead.
Try This Delicious Sandwich Chutney Recipe for Irresistible Flavor
Let's see how to make green chutney for sandwich being at the comfort of your home. Green chutney, is made from fresh herbs like cilantro and mint, is high in antioxidants and other nutrients that can help strengthen your immune system and enhance your overall health. This green chutney recipe is widely used as a dip, spread, or topping for sandwiches, chaat, and other exquisite Indian cuisines.
1. Add 1 cup of cleaned, rinsed, and drained mint leaves to a grinder jar. Do not use the stalks of the mint leaves, as they are likely to make your chutney bitter. mint leaves for green chutney.
2. To the same jar, add 2 cups of cleaned, rinsed, and drained coriander leaves along with the following:
1½ to 2 tablespoons roasted chana dal (optional, fried gram or roasted peanuts or desiccated coconut)

1 teaspoon roasted cumin seeds or ¾ teaspoon roasted cumin powder (Jeera)

¼ teaspoon salt (adjust to taste)

1 to 1 ½ tablespoon lemon juice (adjust to taste)

2 small garlic cloves (optional)

¼ to ½ inch ginger (peeled)

2 to 4 green chilies  (serrano peppers, adjust to taste)
3.Pour little water and begin to blend. I used about 1 to 2 tbsps. If you do not use roasted chana dal you may not need to add water.
4.Add more only if needed. pour water again as needed to make green chutney.
5. Blend until smooth. Check salt & tang. Add more salt and lemon juice if required. smooth green chutney
6. Pair green chutney for chaat & sandwiches. Store it in a glass bottle and use it up within 2 to 3 days. You can also serve it with
Pairing Tips for Green Chutney For Sandwich, Chaat, Snacks, and more

The following are just a few examples of delightful Indian street food options that can be enhanced with the addition of green chutney. Its versatility makes it an excellent condiment for elevating the flavors of these dishes, providing a burst of freshness, and complementing the rich and spicy tastes found in Indian street cuisine. Do try the green chutney recipe for sandwich and savour.
Sandwich chutney
Green chutney is a perfect accompaniment for sandwiches. It adds a zingy and zesty kick to your sandwiches, elevating their taste to a whole new level. Whether you're making a simple veggie sandwich or a grilled chicken one, spread some pudina chutney for sandwich breads and enjoy the burst of flavors it brings.
Samosas
Samosas are deep-fried crusts filled with a savory mixture of potatoes, peas, and spices. The combination of the crispy outer shell and the mint chutney's tangy and cooling taste creates a wonderful contrast that enhances the overall flavor of this classic street food.
Bhel Puri
Bhel Puri is a popular savory snack made with puffed rice, chopped vegetables, chutneys, and a variety of tangy and crunchy elements. Adding a dollop of green chutney to the mix adds an extra layer of freshness and zing to this already delicious and flavorful dish.
Pakoras
Pakoras are deep-fried fritters made with a batter of chickpea flour and various vegetables such as onions, potatoes, or spinach. Coriander chutney acts as a fantastic dipping sauce for pakoras, cutting through the richness of the fried batter and providing a burst of minty goodness.
Aloo Tikki
Aloo Tikki is a popular street food made with mashed potatoes and spices, formed into patties, and shallow-fried until crispy. Green chutney complements the earthy flavors of the potato tikki, bringing a refreshing and herby element to every bite.
Kebabs
Indian street food offers a wide variety of kebabs, including seekh kebabs, chicken tikka, or paneer tikka. Green chutney serves as an excellent accompaniment to these succulent and well-seasoned grilled meats or paneer, adding a refreshing and minty kick to each skewer.
Dahi Vada
Dahi Vada is a popular street food made with lentil fritters soaked in creamy yogurt and topped with various chutneys and spices. The addition of Green chutney provides a tangy and refreshing note to balance the creaminess of the yogurt, creating a harmonious blend of flavors.
Veg Cutlet
Veg cutlet is a vegetarian snack made with a mixture of mashed vegetables such as potatoes, carrots, peas, and beans, along with breadcrumbs, spices, and herbs. The mixture is shaped into flat patties, coated with breadcrumbs, and shallow-fried until golden and crispy. Veggie cutlets are versatile and can be enjoyed as a tea-time snack or used as a filling in burgers or rolls.
Bread Rolls
Bread rolls are a popular Indian snack made by stuffing a spiced filling, such as mashed potatoes, vegetables, paneer (Indian cottage cheese), or minced meat, inside bread slices. The stuffed bread slices are then rolled, sealed, and either deep-fried or baked until crispy and golden. Bread rolls are flavorful and make for a delicious and convenient snack option.


Conclusion
Green chutney is an adaptable and flavorful condiment that pairs well with Indian street cuisine. Its flavorful blend of fresh mint, coriander, and spices enhances sandwiches, chaats, and other munchies. You can improve the flavor of your meals and create a genuine Indian street food experience by including this refreshing chutney. Enjoy a perfect blend of Souls Foods green chutney with these delectable street food appetizers!
Popular Chutney on Soulfoods
Schezwan Chutney | Garlic Chutney | Mint Chutney | Coriander Chutney