The Ultimate Guide to Chicken Nugget Dips: Exploring Unique and Classic Options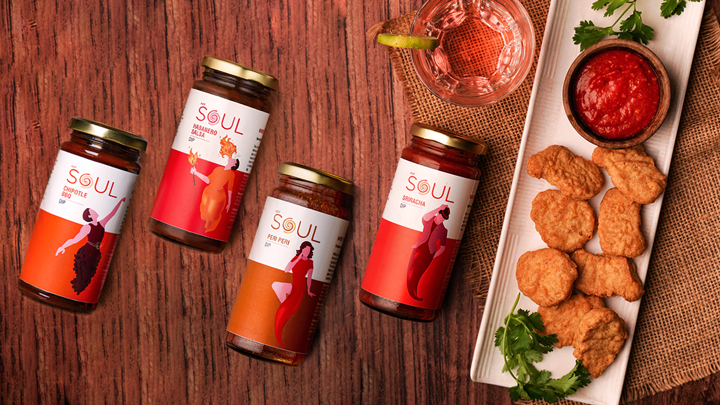 Chicken nuggets are a delicious classic snack or meal. Unfortunately, store-bought options can be loaded with questionable additives and other components. But fear not! Making chicken nuggets at home is a simple and fun process. It not only allows you to control the quality of the ingredients but you can also modify the chicken nuggets recipe to your preference. 
In this article, we'll guide you through how to make chicken nuggets, from the chicken nuggets ingredients and breading procedure to a step-by-step recipe with clear directions. By following our tips and advice, you'll be able to create mouth-watering chicken nuggets that are both delicious and healthier than their store-bought. So, let's get cooking and indulge in some homemade goodness that's sure to satisfy your cravings!

Homemade Chicken Nugget Ingredients 
Making homemade chicken nuggets is a great way to know exactly what's in your food and customize it to your liking. Chicken breast or tenderloin, flour, egg, and breadcrumbs are the chicken nuggets ingredients needed for the nuggets. However, additional seasoning and spices can be added to enhance the flavour. Let us check it out in detail. 
1 bowl of boneless chicken breast, cut into small bite-sized pieces as per your requirement

1/2 cup all-purpose flour

2 eggs, beaten

1 cup breadcrumbs

1 tsp paprika

1 tsp garlic powder

1 tsp salt

1/2 tsp black pepper

Vegetable oil for frying
Chicken Nugget Recipe: How to Make Chicken Nuggets from Scratch? 
As we have already discussed, store-bought chicken nuggets will not only burn a hole in your pocket but can also be unhealthy due to their additives and preservatives. Therefore, if you want to try making a chicken nuggets recipe from scratch, then you're in the right place. It's a simple and delightful process to make the nuggets recipe. Let us check out how to make chicken nuggets in a few steps. 
Let's start by combining the breadcrumbs, paprika, garlic powder, salt, and black pepper in a small bowl. This is where the magic begins!
Next, get two bowls ready: one for the beaten eggs and the other for the flour. Make sure to shake off any extra flour after dipping each piece of chicken in it. Then, coat the chicken with the breadcrumb mixture by pressing it firmly into it before dipping it in the beaten eggs. This is where the flavour really starts to come to life!
Now, it's time to heat things up in a large cauldron or saucepan

over medium-high heat. Add some vegetable oil and let it warm up before adding in your chicken pieces. Cook the chicken in a single layer for 3 to 4 minutes per side, or until golden brown on all sides. Your kitchen will start to smell amazing!
Finally, it's time to plate up your mouth-watering chicken nuggets. To drain the extra oil, simply place the cooked chicken nuggets on a plate lined with paper tissues. Voila! You now have the perfect crispy, flavourful, and oh-so-tasty chicken nuggets. You can repeat the batch as and when you require depending on the serving for the people.



Coating, Breading and Frying the Nuggets 
Who doesn't love a good plate of chicken nuggets? Whether you're a kid or an adult, these tasty little bites are the perfect snack or dinner option. But did you know that the secret to making truly scrumptious nuggets lies in the coating, breading, and frying techniques? Don't worry, we've got you covered with all the tips and tricks you need to understand to make the perfect chicken nuggets ingredients and the recipe like a pro.
Let's start with coating options. While breadcrumbs are the traditional choice, don't be afraid to experiment with panko for a crispier texture or cornflakes for a slightly sweet and crispy coating. To make sure the coating sticks to the chicken, remember to dip it in flour, then in the egg mixture, and finally in the coating. 
Most importantly, don't forget to apply the coating with pressure to ensure maximum stickiness. Want to add some extra flavour? Try seasoning your coating with spices like cumin, paprika, or garlic powder.
Do keep your flame on medium and fry them up in a large saucepan or cauldron, as per the availability, add some vegetable oil. Don't change the medium of the flames. Slowly cook for 3 to 4 minutes per side, or until golden brown on all sides.

If you want to make sure your chicken nuggets cook evenly and don't get too greasy, try using a deep fryer or a big skillet with enough oil to completely cover the chicken. And be careful not to overcrowd the skillet, which can cause the temperature of the oil to decrease. Want to make a healthier version of your favourite snack? Consider baking or air frying your chicken nuggets instead of frying them in oil.
Creating the perfect chicken nuggets may seem like a daunting task, but with the right techniques and ingredients, it's a fun and delicious process. Experiment with different coatings and seasonings, and consider using a healthier cooking method. The chicken nuggets you make will be finger-licking good!
See Also: The Ultimate Momo Guide: Healthy Recipe, Benefits, and Perfect Pairing Dipping Sauces
Classic Dips for Chicken Nuggets 
Chicken nuggets are a typical snack or meal that are often coupled with dips to enhance their flavour. There are several traditional sauces for chicken nuggets, such as peri-peri, chipotle barbecue, sriracha, and habanero salsa. These dips have a variety of tastes that go well with the crunchy texture of the nuggets, from acidic and spicy to sweet and smoky.
Peri-Peri Dip - This Portuguese-style dip is created with hot chiles, garlic, and vinegar. It has a tangy, hot flavour that goes nicely with chicken nuggets to add spice.
Chipotle-Barbeque Dip - Barbecue sauce and chipotle chiles are used to make this smokey and hot dip. It gives the chicken nuggets a great southwestern taste and a little touch of fire.

Sriracha Sauce - This hot sauce is made with key ingredients such as garlic, vinegar, sugar, salt, and chilli peppers. It tastes a little bit sweet and sour, and it gradually gets spicier. It's a popular dip for chicken nuggets because it adds a nice kick of flavour without being too overpowering.

Habanero Salsa - This salsa is made with tomatoes, onions, garlic, habanero chiles, and other ingredients. Chicken nuggets' crunchy texture is complemented by its flavour, which is bright, tangy, and spicy with a zest. For those who enjoy their food really spicy, it's a terrific dip.
Conclusion 
So now that you understand how to make chicken nuggets in a healthy way, You can make a tasty, crispy chicken nuggets recipe that will help you impress your family and friends by following the recipe and advice in this article. Why settle for store-bought chicken nuggets when you can whip up your own delicious and healthy version in no time? There's something so satisfying about cooking a meal from scratch, and with chicken nuggets ingredients available at home, you'll get just that.

However, why stop there? Take your homemade chicken nuggets to the next level by pairing them with some delicious Soulfoods dips. From Sriracha Sauce to Chipotle-Barbeque Dip, there's a dip for every taste bud. You won't be able to resist dipping your chicken nuggets into these mouthwatering dips available on the website.  So why wait? Roll up your sleeves, turn up the music, and get ready to create the ultimate chicken nugget feast with Soul Foods dips. 
Popular Dips & Sauces on Soulfoods:
Arrabiata Pasta Sauce | Pomodoro Pizza Sauce | Aglio Olio Sauce | Pesto Pasta Sauce
Dips: Chipotle Barbeque Sauce and Dip | Salsa Sauce and Dip | Chilli Oil Dip | Peri Peri Dip | Sriracha Sauce & Dip | Habanero Salsa Dip