Gujarati Methi Thepla Recipe: Healthy & Delicious Snack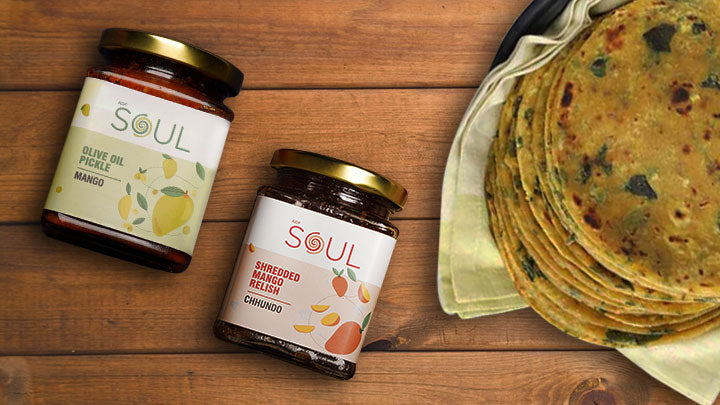 Looking for a recipe that tastes great and is good for you at any time of the day? Methi Theplas are the ones to rescue you. These Indian flatbreads are made with fenugreek leaves and whole wheat flour, making them a healthy and flavorful option for breakfast, lunch, or dinner. This methi thepla recipe is packed with nutrition as they are a great source of fiber and protein, making them a filling and satisfying meal. They can be enjoyed on their own or paired with chutney, yogurt, pickles, and so on. Fresh fenugreek leaves and a mixture of aromatic spices are used to make these delectable Indian flatbreads. 
The best thing is you can enjoy this delicious gujarati thepla recipe with a variety of dishes, from savory curries to sweet chutneys, making them a versatile and flavorful addition just like roti or parathas. You can create them at home quickly as and when you feel like having it.
Interestingly, throughout this article, you will also have some fascinating serving ideas that will elevate your Thepla experience. Some of these serving ideas include pairing Theplas with different chutneys, dips, and spreads or using them as a base. Get creative and experiment with different flavor combinations to make your Thepla experience even more enjoyable. Stay tuned till the end of the blog to get that lip-smacking thepla recipe along with some exciting side dishes to add to the blast of flavors.

What are Theplas, and where do they originate from?
Get ready to whip up a delicious and authentic Indian dish right in the comfort of your own kitchen with this easy-to-follow recipe for thepla! Hailing from the state of Gujarat in western India, thepla is a signature dish that will transport your taste buds to the lively streets of India with every bite. 
This authentic gujarati thepla recipe is made from wheat flour, yogurt, and fragrant green fenugreek leaves, this delectable flatbread can be compared to paratha and is the perfect accompaniment to curries, chutneys, or even enjoyed as a snack. Thepla is also a popular travel snack in India as it can be stored for a long time and is easy to carry. Thepla is a staple food in the western Indian state of Gujarat and is often served for breakfast or lunch. Most importantly, the recipe to make thepla is very easy and takes less time. 
Also, a great option for vegetarians as it is filling and packed with flavor. It is often served with a dollop of butter or pickle on top for added flavor. To make this mouth-watering dish, simply follow this easy recipe below. The dish is commonly known as methi roti in India and is a popular breakfast item in many households. It's also a great way to incorporate healthy greens into your diet. Let's see how to make thepla at home by following this simple recipe below.  
See Also: How to Make Veg Momos
How to Make Yummy Methi Thepla Recipe

Thepla, is well-known for its light and airy texture. If you're a fan of Indian cuisine, you definitely need to give making theplas at home a try. The process is simple, enjoyable, and requires only a few basic ingredients and minimal effort. For this thepla recipe, you'll need whole wheat flour, besan, chopped fenugreek and coriander leaves, cumin seeds, turmeric, red chilli powder, salt, and yogurt.
These ingredients blend together perfectly to create a soft and flavourful thepla that pairs wonderfully with any meal. To achieve the perfect recipe to make thepla, be sure to follow the step-by-step directions closely. And don't forget to serve them with your favourite yogurt or pickles! So what are you waiting for? In order to learn how to make thepla check out the ingredients with the required measurement mentioned below. 

Ingredients:
2 cups whole wheat flour

1/4 cup besan (gram flour)

1/4 cup yogurt

1/2 cup chopped fenugreek leaves (methi)

1/4 cup chopped coriander leaves

1/2 tsp cumin seeds

1/4 tsp turmeric powder

1/4 tsp red chili powder

Salt to taste

Oil for cooking

Water for mixing as per requirement
Follow the instructions of the methi thepla recipe in detail to get a delicious taste:
In a large bowl, add whole wheat flour, besan, chopped fenugreek leaves, chopped coriander leaves, cumin seeds, turmeric powder, red chili powder, and salt to taste. Mix all the ingredients well and start kneading till the dough is thick. Please note, control the water levels as it should not be too thick or too thin.

Cover the dough with a damp cloth to prevent it from drying out. Divide the dough into equal-sized balls. Roll out each ball into a circle roughly 5-6 inches in diameter, dusting it with flour as needed to prevent it from sticking.

Heat a griddle over medium heat. When it turns hot, place the thepla on it. When one side starts to bubble up, approximately 60 seconds later, flip it to the other side, carefully pressing the thepla down with a cloth or a ladle to make sure it is fully cooked.

Flip the thepla and add a teaspoon of oil to the pan. Cook on both sides for about 15 seconds each. Use a spatula to press the edges to ensure that the sides are cooked through.

Repeat the procedure with the remaining dough after removing it from the tawa. Serve hot with yogurt, chundo, or mango pickle. Enjoy your delicious homemade Thepla!
Methi Thepla Pairing Suggestions
Chhundo Pickle: Try pairing them with Soulfoods' Chhundo Pickle! This delicious pickle will take your theplas to new heights of flavour. Get your hands on this irresistible Chhundo Pickle from Soulfoods today and upgrade your thepla game!


Mango Pickle in Olive Oil: Add a delicious twist to your theplas with Soulfoods' Mango Pickle in Olive Oil. The tangy pickled mango combined with the rich, flavorful olive oil is sure to elevate your methi thepla recipe to the next level. Don't miss out on this irresistible combination, get your hands on it!


Yoghurt or Curd: Serve the Methi Theplas with a bowl of fresh and creamy curd. The tangy and refreshing taste of the curd complements the earthy flavors of the theplas. It is one of the best combinations as it neutralizes the bitter methi flavours.


Tomato Ketchup: Serve the Methi Theplas with a dollop of Tomato Ketchup. The sweet and tangy taste of the ketchup adds a different flavor to the gujarati thepla recipe. Ketchup is easily available in most of the households and complements well the theplas.


Vegetable Sabzi: For a complete meal, serve the Methi Theplas with a delicious and nutritious vegetable sabzi. The combination of the theplas and the sabzi provides a filling and satisfying meal.

Conclusion

Now that you have learned how to make thepla get ready to savor the irresistible flavors of the thepla recipe mentioned in this article. The recipe to make thepla can also be paired with a wide range of dishes, from savory curries to sweet chutneys. Whether you're looking for a quick breakfast fix or a snack to munch on during long travels, theplas are spot on.
To make your theplas even more irresistible, don't forget to pair them with Soulfoods' mouthwatering Chundo and mango pickle. These pickles are the perfect accompaniment to the spicy and savory flavors of the theplas, making for a truly delicious combination you'll ever taste.
So why wait? Get started on making your own theplas today and experience the mouthwatering goodness for yourself! And don't forget to check out Soulfoods for all your pickle needs. Buy online right away and enjoy the delicious flavors being at the comfort of your own home!
Popular Traditional Pickles on Soulfoods:
GorKeri Pickle | Chhundo Pickle