Quick and Easy Chicken Kabab Recipe: Perfect for a Weeknight Dinner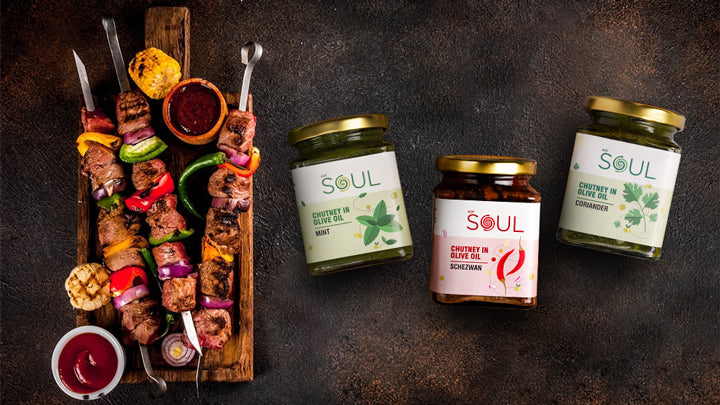 If you crave a delicious chicken recipe but can't go out due to the monsoon season, then don't worry! It's time to ditch the restaurant-style chicken kabab and enjoy it in the comfort of your own home. Not only will this save you a few bucks, but it will also easily satisfy your cravings whenever you want. With this easy-to-follow recipe, you can savour the best flavours by pairing it with Soulfoods Mint & Coriander Chutney or Schezwan Chutney. We are confident that this kabab recipe will taste just like the restaurant style and won't take much time to prepare. So, why wait any longer? Let's delve straight into the kabab banane ki recipe below.
Preparation of Chicken Kabab Recipe
Are you looking for a mouthwatering chicken kabab recipe to try at home? This chicken kabab recipe is a harmonious blend of flavours and spices that gives a sheer delight. You can easily enhance the taste of your chicken kababs with the perfect blend of chicken kabab masala. So, let's get started on this delicious dish and create some culinary magic in our kitchens. Discover the secret kabab ingredients below that make these chicken kababs so delicious.
Chicken Kebab Ingredients
250 grams chicken boneless cubes
2 to 3 tablespoons Greek yogurt (thick curd / hung curd)
2 tablespoons oil (olive oil or sesame oil)
Salt as needed
1½ tablespoons lemon juice
¾ teaspoon garam masala or a mix of ground cumin, cinnamon, cloves, cardamom, pepper, coriander
1 to 1½ teaspoon ginger garlic paste
¾ to 1 teaspoon red chilli powder (or paprika)
1 medium onion, cubed and layers separated
How to Make Chicken Kabab
Let's make this delicious chicken kabab recipe at home! The flavorful chicken kabab masala will enhance the flavour of your kebab ingredients. Stay tuned for tips such as adding a flavour boost to your marinated chicken by sprinkling it with chicken kabab powder and so on. Discover the chicken kabab recipe that will take your senses on a delightful adventure. Let's dive into the step-by-step process of creating these yummy kababs.
Instructions:
Check out the Recipe for Chicken Kabab Marinade
Check the chicken for any excess moisture and ensure it is fully drained.
In a mixing dish, thoroughly combine all of the masala ingredients.
In the marinade, make any necessary adjustments to the seasoning. Ensure each piece of chicken is thoroughly marinated.
Cover the chicken completely and refrigerate for a minimum of 4 hours or overnight. This resting period helps tenderize the chicken and allows it to absorb flavors more effectively.
Alternatively, thread the marinated chicken and onions onto the skewers. Soak wooden skewers in water before using them.
Making a Chicken Kebab
Preheat the oven to 240°C and let it preheat for at least 15 to 20 minutes.
Place the chicken kebabs on a baking tray and bake them for 15 minutes.
After 15 minutes, flip the kebabs to the other side and continue cooking for an additional 15 minutes.
Move the tray to the top rack of the oven or switch to broil mode for the final 5 minutes of cooking. If desired, you can spread some butter or oil over the kebabs at this point.
If you don't have a grill at home, then take a small portion of the mixture and shape it into a flat, round kebab.
Heat a tawa or a flat pan over medium heat and drizzle some oil onto it.
Place the shaped kebabs on the heated tawa and cook them until they are cooked through and turn golden brown.
While cooking, you can brush some oil on the kebabs to keep them moist and prevent sticking.
Once the kebabs are cooked and have a nice crust on the outside, remove them from the tawa and place them on a serving plate or on skewers.
Serve the chicken kebabs hot, accompanied by mint and coriander chutney. Alternatively, if you're looking for a spicy kick, Schezwan chutney can fulfill your cravings!
Tips to Make Chicken Kabab More Tasty
Improve your Chicken Kabab game with our expert advice that will make your taste senses dance with ecstasy. Every bite should be a gourmet masterpiece, overflowing with flavour and leaving you wanting more. So, let's dig into these helpful hints and discover how to make your Chicken Kababs irresistibly scrumptious.
Cut the chicken into equal-sized pieces for consistent grilling and browning.
Adjust the spice amounts to your preference. The recipe is for mildly spicy chicken kebabs. The crucial element in tenderizing the chicken is yogurt. Tandoori masala can also be substituted for garam masala. Adjust the amount to your preference.
Allow the chicken to marinate for at least 4 hours, or better yet, overnight. This extended marination time allows the flavors of the chicken kabab masala to penetrate the meat.
Don't shy away from experimenting with spices. Add a dash of aromatic spices like cinnamon, cardamom, and cloves to add depth and complexity to the marinade.
Customize the spice level according to your taste preferences, creating a flavor profile that is uniquely yours.
Yogurt is a secret weapon for tenderizing the chicken and infusing it with a creamy richness. Make sure to use thick and tangy yogurt in your marinade. Greek yogurt works wonders in creating a luscious texture while imparting a delightful tanginess to your kababs.
Achieve a harmonious balance of flavors by mixing different spices in your chicken kabab masala.
Grill enough so that it adds that coveted smoky flavor and charred texture to your kababs.
Avoid overcooking the chicken, as it can result in dry and tough kababs. Keep a close eye on the cooking time and remove the kababs from the heat when they are just cooked through, ensuring they retain their juiciness.
Conclusion
Chicken Kabab is a versatile and delicious option that can satisfy cravings for dinner parties or a delicious treat. With easy-to-follow recipes and readily available ingredients, you can quickly master the technique and enjoy this delicious with Soulfood chutneys. The delicate chicken marinated in aromatic spices and grilled to perfection creates a delightful experience.
The adaptability of Chicken Kabab allows for experimentation with different spices and seasonings, ensuring each bite is a unique delight. For a complete meal, serve it with fresh salad or warm naan bread, and sprinkle sour and savoury Soul Foods chutneys on top for an extra bite.
This simple recipe is suitable for both newbie and experienced cooks, making it a must-try for those who prefer grilled dishes or experiment with new flavors. Gather ingredients, preheat the grill, and enjoy the exquisite taste of Chicken Kababs at home. Place your order and experience the richness of Soul Foods chutney with Chicken kebabs.
Popular Chutney on Soulfoods
Schezwan Chutney | Garlic Chutney | Mint Chutney | Coriander Chutney