Veg Biryani Recipe: Spice Up Your Dining with Soulfoods Pickles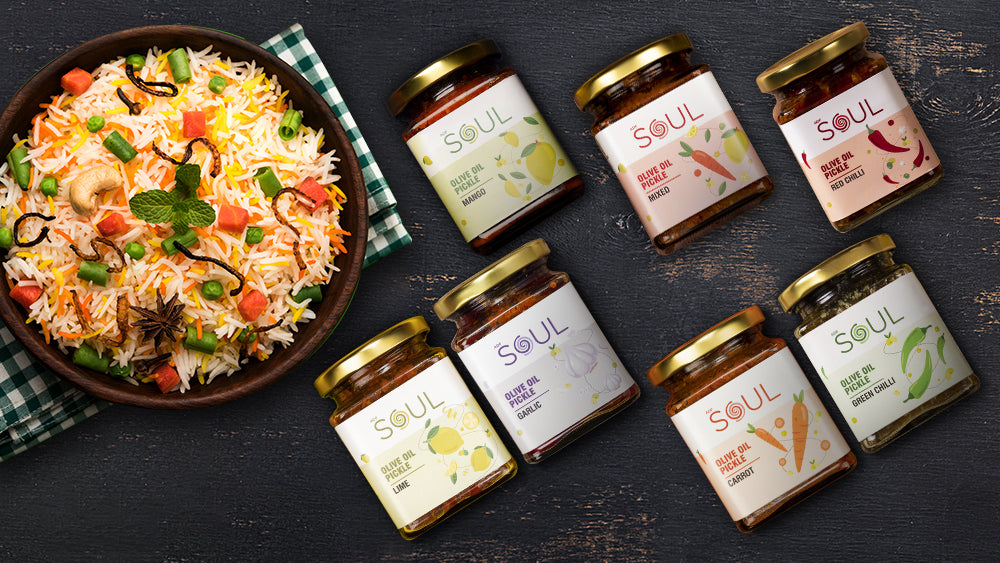 Veg Biryani, a popular Indian dish loved for its delicious taste and flavors. The long-grain Basmati rice, crisp vegetables, and spices make it appetize. It is quite easy to make and can be made with different variations as per your requirement. To enhance the flavors of the Biryani recipe pair it with wide range of Soulfoods Pickles. It will add a burst of savory flavors that perfectly balance the richness of veg biryani recipe. Moreover, we will also learn to make different ways which you can try to make vegetable biryani like dum briyani, hyderabadi vegetable biryani and so on. Let us explore how to make biryani by following the step-by-step guide below. 
A Step-by-Step Veg Biryani Recipe
Let's get right to the vegetable biryani recipe that will taste just like restaurant style. All the biryani ingredients required will be easily available at home. Try this Veg Biryani recipe to impress your family and guests with authentic Indian flavors. By following this easy to make veg biryani recipe it's time to steal some compliments. Enjoy the delightful aroma and taste of this veg biryani. Check out the ingredients for vegetable biryani below. 
Ingredients:
- 2 cups Basmati rice
- 2 cups mixed vegetables (carrots, peas, beans, and bell peppers)
- 1 large onion, thinly sliced
- 2 tomatoes, chopped
- 1/2 cup yogurt
- 1/4 cup cooking oil or ghee
- 2-3 green chilies, slit
- 1-inch piece of ginger, minced
- 3-4 cloves of garlic, minced
- 1/2 teaspoon cumin seeds
- Whole spices (1 bay leaf, 2-3 green cardamom pods, 4-5 cloves, 1-inch cinnamon stick)
- 1/2 teaspoon red chili powder
- 1/2 teaspoon turmeric powder
- 1 teaspoon garam masala
- A pinch of saffron threads soaked in warm milk
- Fresh coriander leaves and fried onions for garnish
- Salt to taste
Instructions:
Rinse the Basmati rice under cold water until the water runs clear. Soak the rice in water for 30 minutes, then drain.





Heat oil or ghee in a heavy-bottomed pan. Add the cumin seeds and whole spices. Sauté for a minute until they release their aroma.





Add the sliced onions, green chilies, ginger, and garlic. Sauté until the onions turn golden brown.





Add the chopped tomatoes and cook until they soften. Then, add the mixed vegetables, red chili powder, turmeric powder, and salt. Cook for 2-3 minutes.





In a large pot or pressure cooker, layer the partially cooked vegetables, followed by the soaked and drained rice. Sprinkle garam masala and drizzle the saffron-infused milk over the rice.





Cover the pot or pressure cooker and cook on low heat for about 20-25 minutes or until the rice is tender and cooked through. If using a pressure cooker, cook without the weight on low heat.





Once done, let it rest for 5-10 minutes. Garnish with fresh coriander leaves and fried onions.





Fluff the Veg Biryani gently with a fork and serve hot with raita and Soulfoods Pickles for that extra burst of flavor.
Savoring Perfection: The Magic of Dum Cooking

If you're looking to experience an explosion of flavors that will truly elevate your vegetable biryani recipe, consider using the dum cooking method. The primary objective of cooking in the dum style is to capture the essence of all the flavors infused in the vegetable biryani. Dum cooking is essentially a slow-cooking process where the food is prepared in a pot that is completely sealed, preventing its aromatic essence from escaping. To prepare your vegetable biryani using the dum cooking, follow these steps.  
Use aluminum foil to cover the lid or a damp cotton cloth to tightly secure the pot. 

Cook for approximately 30 to 35 minutes over the lowest flame. 

Check the bottom layer for any excess liquids and, if necessary, continue cooking for an additional 10 minutes. 

Allow the biryani to rest for 5 to 7 minutes before serving.
By using the dum cooking technique, you'll lock in the rich and diverse flavors, creating a vegetable biryani that is truly a finger licking good.
Elevate Your Biryani with Soulfoods Pickles
Now, here's where the magic happens. It's time to take your Veg Biryani to the next level, consider the addition of Soulfoods Pickles. You can get a wide range of options from tangy and spicy pickles. No doubt it offers a delightful contrast to the soothing flavors of the biryani. Their unique blend of flavors complements well with the veg biryani. Whether you prefer a hint of spicy fiery kick, or a tangy twist, there's a Soulfoods Pickle to match your palate and the different variations of biryani recipes. Check out the exciting variety of Soulfoods  pickle options below. 
Mango Pickle:
Mango pickle is a preferred pickle that adds a burst of tropical flavors to your meal. It is a sweet and tangy delight with the ideal balance of strong spices.
Mixed Pickle:
Offering a mix of pickled vegetables, this variety provides luscious flavors and textures, making it a versatile addition to your plate.
Red Chilli Pickle:
Red chilli pickle has intense heat and bold flavors for those looking for a fiery kick to complement the richness of dum biryani. 
Garlic Pickle:
Garlic pickle is made by combining strong garlic cloves and fragrant spices. Which gives great crunch while added to veg biryani. 
Green Chilli Pickle:
Green chilli pickle is the ideal pickle to spice up your meals because it adds a zesty, fresh flavor with the right amount of heat.
Lime Pickle: 
You can give your meal a light twist while also enhancing your biryani's vibrant flavors and tart flavours. 
Carrot Pickle:
Carrot pickle is a tangy, crunchy, and subtly addition that can be added when you up for some spicy salad over whole dining experience.
Variations of Vegetable Biryani and Its Versatility
Veg Biryani is a widely enjoyed Indian dish with numerous variations to suit different tastes, including popular regional biryani recipes that showcase the diverse flavors of Indian cuisine. Explore the possibilities and experiment with vegetable biryani recipes.
Hyderabadi Vegetable Biryani:
It is known for its rich and aromatic flavors, which include saffron-infused rice and a blend of spices, and it provides a royal experience.  
Lucknawi Vegetable Biryani:
Contains vegetables and slow-cooked rice in a creamy gravy that perfectly captures the flavor of North Indian food. 
Kashmiri Vegetable Biryani:
Characterized by the use of dry fruits, yogurt, and mild spices, creating a sweet and savory flavor profile 
South Indian Vegetable Biryani: (H4 tag)
Prepared with fragrant spices such as curry leaves and coconut, resulting in a spicy and tangy variation.  
Vegan Vegetable Biryani:
Vegetables, tofu or tempeh, and substitutes for dairy-free yogurt and ghee are used in recipes that are designed for plant-based diets. 
One-Pot Vegetable Biryani:
A simplified version that combines all ingredients in a single pot to reduce cooking time and dishes.


Conclusion:


Try out this simple Veg Biryani recipe along with the suggested modifications from the blog. Each bite offers a flavorful experience as you savor the combination of fragrant spices, aromatic rice, and mixed vegetables. Our Veg Biryani Recipe is sure to please your palate, whether you prefer the simple version or one with variations. The Biryani ingredients can also be customized according to your preferences using the variations provided on the blog, making it a flexible choice for any occasion. Don't miss the opportunity to enhance the flavors by pairing it with our Soulfoods pickles, which will add an extra layer of tanginess and richness to every bite.