Vegetable Cutlet Recipe: A Delicious and Healthy Snack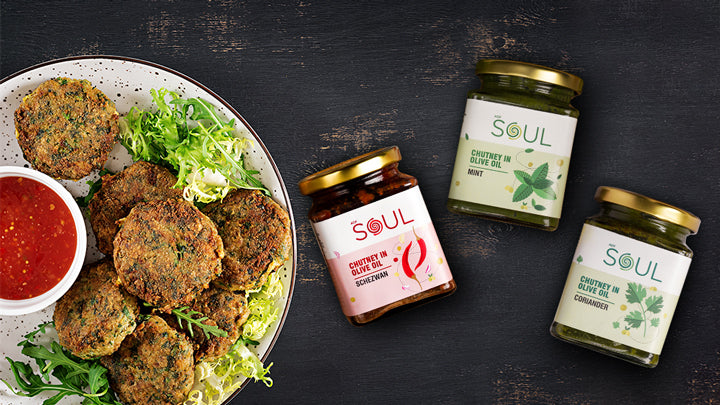 About Vegetable Cutlet Recipe
Vegetable cutlets are delicious and healthy snacks that are enjoyed by all! These crispy cutlets are made with vegetables and spices, making them great appetizers or teatime snacks. They are packed with nutrients and flavours, making them a perfect choice for those seeking a guilt-free indulgence.
The combination of finely diced veggies, including carrots, peas, and potatoes, gives these cutlets a lovely texture and provides them with nutrients. Aromatic spices like cumin, coriander, and turmeric add flavour, making them even more delicious.
Whether you enjoy the veg cutlet recipe with soulfoods Mint and coriander chutneys to enhance the flavours, these vegetarian cutlets are made in an exciting way to include nutritious veggies in your child's diet, even if they tend to pick them out when they don't like them.
These cutlets can also be used as burger patties in a veggie burger, or you can simply pair them with coriander, mint chutney, or some sauces. So why not treat yourself to these yummy delights and savour the goodness of vegetables in every bite? Let's check out this easy-to-follow vegetable cutlet recipe and enjoy the goodness of these homemade cutlets!
How to Make a Vegetable Cutlet
Ingredients for Veggie Cutlet
2 cups potatoes, cubed (2 large)
½ cup green peas (frozen or fresh)
1 cup carrot, cubed (1 large)
½ cup beans, chopped (6 to 8)
3 tablespoons coriander leaves or cilantro, finely chopped
½ teaspoon salt (adjust to taste)
¾ teaspoon ginger, grated or paste
1 to 2 green chillies, finely chopped (if required)
½ to ¾ teaspoon garam masala
6 tablespoons bread crumbs or ½ cup thick poha powdered or roasted besan
4 tablespoons oil (or as needed)
For Crumb Coating for Vegetable Cutlet
2 tablespoons besan or gram flour, rice flour, or corn flour (as preferred)
½ cup bread crumbs or powdered poha for the crust
Preparation for Vegetable Cutlet Recipe
Vegetables should be steamed or boiled until fork soft. You can put all the vegetables in a pressure cooker and cook for 2 whistles on medium heat with half a cup of water.
Mash the cooked veggies thoroughly in a mixing bowl. If you don't have bread crumbs, make a fine powder out of poha in a mixer jar.
To the vegetables, add breadcrumbs or powdered poha, salt, grated ginger, garam masala, and chillies.
To make a non-sticky dough, thoroughly combine all of the ingredients.
To make it less sticky, add extra bread crumbs or powdered poha.
Shape Vegetable Cutlet
Divide the cutlet dough into 12 to 15 medium-sized round pieces.
Carefully flatten each vegetable cutlet to form thick patties.
In a separate small mixing bowl, combine the besan or rice flour.
Pour in just enough water to produce a fairly thin batter. If you want a thick crust on your cutlets, create a slightly thicker batter and immerse them in the batter.
For the crust, place a cup of bread crumbs or powdered poha in a separate plate.
Coat each vegetable cutlet all over with the crumbs.
Set them aside on a plate for 5 to 10 minutes.
Repeat the process with the remaining vegetable cutlets, dipping them in the batter and then in the crumbs.
To remove excess crumbs, carefully shake them off on a dish just before frying.
Frying Veg Cutlet in Pan
Finally, in a large pan, heat 1 tablespoon of oil for shallow frying. When the oil is hot, carefully insert the vegetable cutlet into the pan.
Fry them till brown and crisp on both sides. Set aside and fry in two batches, using as much oil as needed. Bake for 15 minutes per side or until golden and crisp.
Baked and Air Fryer Veg Cutlet
Variations To Try For Veg Cutlet Recipe
If you're looking for a healthier alternative to the traditional fried vegetable cutlet, you can try baking or air frying them. These methods reduce the amount of oil used while still providing a delicious and crispy result. Here's how you can make baked or air-fried veg cutlets. For the vegetable mixture, follow the same steps as the traditional veg cutlet recipe mentioned earlier. Once the mixture is prepared, you can shape it into cutlets as usual.
For Baked Veg Cutlets Follow the Steps Mentioned Below
Preheat your oven to 400°F (200°C). Place the cutlets on a baking sheet lined with parchment paper. Lightly brush the cutlets with oil to promote browning.
Bake them for about 20-25 minutes, flipping them halfway through, until they turn golden and crispy. The baking time may vary depending on the thickness of the cutlets.
For Air Frying the Cutlet Follow the Steps Mentioned Below
If you prefer using an air fryer, preheat it to 375°F (190°C). Place the cutlets in a single layer in the air fryer basket.
Lightly spray or brush them with oil. Air fry for approximately 12-15 minutes, flipping them halfway through, until they become golden and crispy.
Pro Tips to Make Veg Cutlet More Tasty
By following these tips, you may enhance the flavour and texture of your vegetable cutlet recipe, making them even more tasty and pleasurable. Do try out and experiment with the ingredients of vegetable cutlet as you like.
Properly Cook the Vegetables: Cook the vegetables until they are soft but not mushy. Overcooking can result in taste loss and a mushy texture. Maintain a balance to keep the vegetables' natural crunch and flavour.
Experiment with Herbs and Spices: Add fresh herbs like coriander, mint, or basil for a blast of flavour. To increase the flavour profile, try cumin powder, turmeric, or paprika.
Use the right pairing: To enhance the flavours, pair the vegetable cutlet with the delicious mint and schezwan chutney from Soulfoods. The combination of these authentic chutneys will elevate your vegetable cutlet recipe to new heights, leaving you craving for more.
Mint Chutney Pairing: Serve your vegetable cutlet with a spoonful of refreshing Soulfoods mint chutney to bring out the best flavours. The cool and aromatic mint chutney will deliver a burst of freshness that matches the savoury taste of the cutlet, offering a pleasant combination.
Schezwan Chutney Pairing: Serve your vegetable cutlet with spicy Schezwan chutney to give it a fiery kick. The rich and tangy flavours of the Schezwan chutney will enhance the taste of the cutlet, adding an exciting variation to your dish.
Maintain Consistency of Binding Agent: Make sure there is a good binding agent to keep the cutlets together. It should not be more thick or thin as it might overpower the flavours or might or will affect the crispiness of the same.
Maintain the temperature: Before frying the cutlets, heat the oil to the proper temperature. This aids in the creation of a crispy and evenly browned exterior. Moreover, if you are baking or air frying the same it is important to maintain the temperature of the same.
Drain Excess Oil: After frying, place the cooked cutlets on a paper towel to absorb any excess oil, resulting in a lighter and less greasy final product.
Conclusion
Vegetable cutlet are a delicious and nutritious snack that is suitable for everyone. Make them even more delightful by pairing them with Soulfoods chutneys like mint or schezwan. There's no doubt that these crispy cutlets are a crowd-pleaser and easy to make. Be sure to follow the simple veg cutlet recipe and tips to satisfy your taste buds. These scrumptious vegetable cutlet recipe can be served as appetizers, tea-time treats, or used as stuffing for sandwiches or burgers. Visit our website to place your order for chutneys and sauces, and add more flavors to your snacks and meals.
Popular Chutney and Dip on Soulfoods
Schezwan Chutney | Garlic Chutney | Mint Chutney | Coriander Chutney